Unless it's considered the only medical option to treat a serious eye problem, it's unlikely that your health insurance policy covers refractive surgery.
Are the glasses that you wear, wearing on you?
75 percent of Americans rely on some form of vision correction. One study found that 40 percent of people have vision issues at age 30 (after which our eyesight rapidly declines), and over 90 percent of people need vision correction by age 55. For some, LASIK surgery seems like the right solution. The final decision frequently comes down to: will health insurance pay for it?
What Is LASIK?
LASIK (laser-assisted in situ keratomileusis) is a form of "refractive surgery" (any procedure that corrects vision). Fully approved by the FDA in the 2002, it's now the most common elective surgery in America.
The science behind LASIK came together in the 1980s, after a scientist proved it was possible to reshape eye tissue by aiming a laser at his family's Thanksgiving leftovers. Until the 1950s, glasses were the only form of vision correction available. Contact lenses, introduced fully in the 1970s and popularized beginning around the 1990s, are now used by more than 30 million people in the United States. With LASIK – as well as similar procedures known as RK (radial keratotomy) and PRK (photorefractive keratectomy) – those with eyesight issues now have access to many different options for improving or correcting their vision.
LASIK, RK, and PRK are all considered safe surgical procedures, and any of them may be an option for those no longer wanting to deal with the inconveniences associated with wearing glasses or contacts. If you choose to have laser eye surgery or another vision correction procedure, it's possible to save money – but it's unlikely to be covered by insurance.
Why Health Insurers Rarely Pay for LASIK
For the most part, health insurers will pay only for glasses or contacts. "Insurance has taken the position that LASIK is cosmetic," says Dr. Charles R. Moore, the founder of International EyeCare in Houston, Texas.
Your healthcare provider will probably buy you a pair of glasses, but not a pair of expensive fashion glasses. Similarly, even though firing lasers into your eyes is apparently a health-related procedure, high-end refractive surgery isn't viewed as medically necessary.
While there are cost benefits to LASIK (particularly if you save money not having to buy contact lenses), it's hard to see a way that health insurance will pay for LASIK surgery.
How Much Does LASIK Cost?
Whether you're insured, underinsured, or totally without coverage, the costs of LASIK surgery will likely end up being paid out-of-pocket (at least in part).
In 2016, the average sticker price for LASIK surgery was $2,059 per eye. Costs vary greatly, and LASIK can be found for anywhere from $300 to $4000 per eye.
While most vision plans offer eye exams and glasses at a fixed rate, no major vision plans have listed a fixed rate for refractive LASIK surgery. The final price will depend on your current prescription, as well as the specific doctor. (Many LASIK surgeons also offer large discounts on the posted price as an incentive to attract customers).
Some surgeons advertise a flat, fixed price for a single-day LASIK procedure that treats both eyes. These deals are not recommended by the FDA due to the risk of unknown complications. The FDA encourages patients to compare multiple doctors before trying LASIK. Fixed-price deals may also discourage doctors from giving follow-up care.
Ways to Pay for LASIK Surgery
Some people may blink at the cost, but there are ways to make corrective eye surgery more affordable. If you've done the research and still feel that LASIK surgery is right for you, there are 7 payment options that you can consider.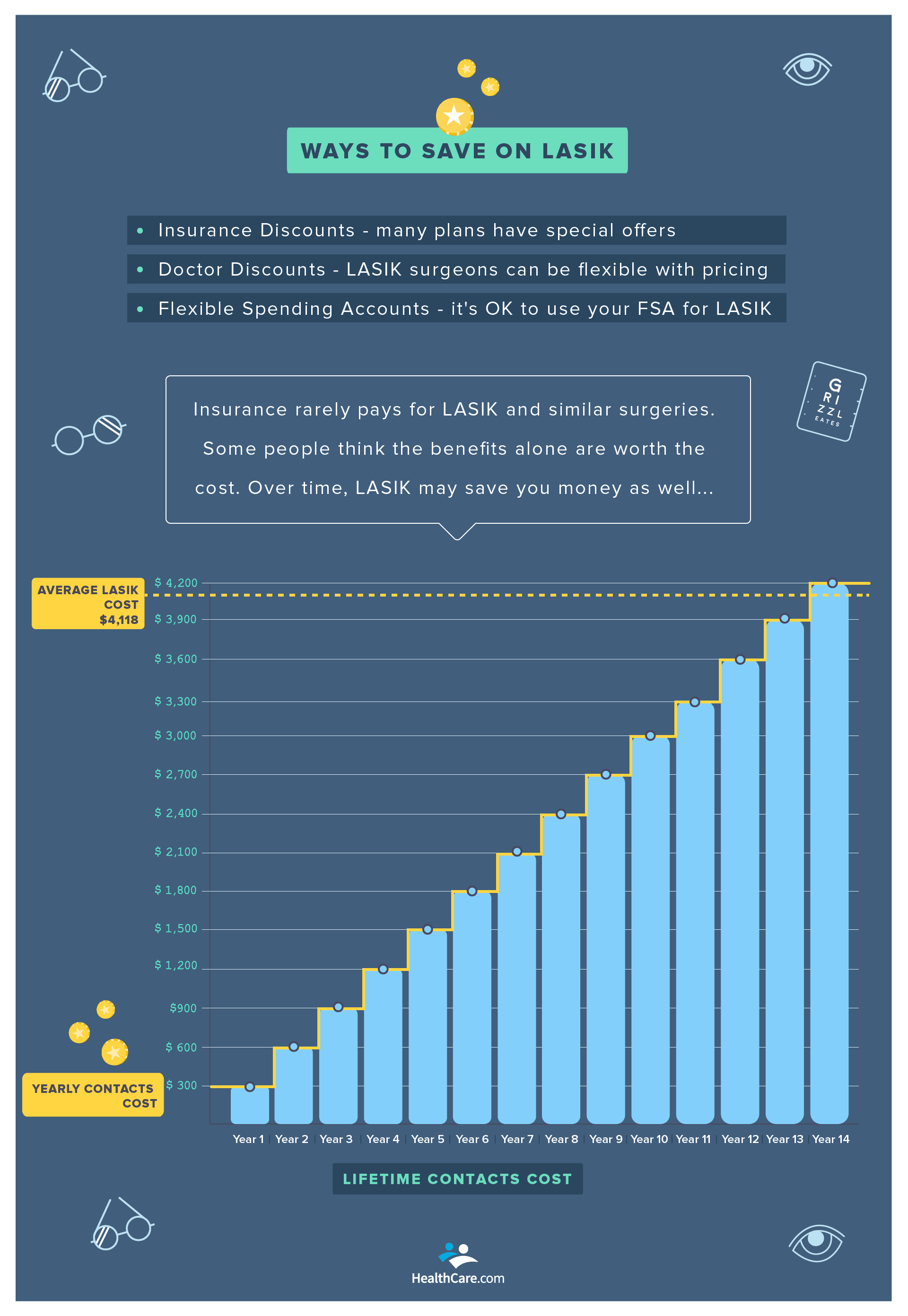 1. Vision Insurance
If your health insurance operates its own vision plan, it'll probably have a special arrangement in place with a local LASIK practice. Contact your provider for more information.
Your health insurer may have also outsourced its vision benefits to one of the major standalone vision care plans:
Davis Vision offers steep discounts with preferred providers, generally from $1,000 to $2000 per eye.
VSP has negotiated discounts with their network generally offering LASIK between $1000 and $3000 per eye.
EyeMed does things a little differently. Membership in EyeMed entitles you to 15% off standard LASIK prices or 5% off promotional prices. They also have a partnership with a nationwide LASIK network.
2. Out-of-Pocket
You can, of course, pay for refractive surgery on your own. Many doctors will be able to set up monthly payment plans if you'd rather not pay all at once.
Covering LASIK costs on your own also gives you greater flexibility to negotiate. LASIK providers may offer a steep discount if you're able to pay your bill in full with cash.
You should still look to your insurer to see what reimbursement they can offer, even if the procedure is rarely approved.
3. Flexible Spending Account (FSA)
FSAs have a number of advantages, primarily because salary sent to your FSA is not subject to a payroll tax. If your employer offers an FSA, refractive surgery will count as an eligible expense. Even if your insurance plan does not cover LASIK, your FSA can still be used to pay for the procedure.
The maximum FSA contribution is $2,500 per year. Budgeting your full FSA amount towards LASIK will result in significant tax savings. It also wraps up your annual FSA paperwork in a single day.
4. Union or Labor Health Insurance
Comprehensive labor union health plans sometimes pay for refractive surgery. Some professions consider corrected vision to be necessary for employment – in these cases, your health insurance will pay for LASIK surgery. To learn more, you will have to check with your health plan.
5. Medicare and Medicaid
Medicare and Medicaid will not pay for refractive surgery unless it is medically necessary. Sometimes Medicare and Medicaid providers contract with an outside company to cover vision benefits; that company will likely steer you to their preferred doctors for a discount.
6. Army, Navy, Air Force, Marines and Coast Guard
It's not unusual for members of the armed forces to receive refractive surgery. Glasses can be a burden and contact lenses are generally prohibited in combat zones, so the government understands the need to improve your eyesight before deployment.
PRK is more common than LASIK in the military, but both options are available. Each branch has a different policy for enlistees to obtain refractive surgery. An active duty service member can learn more through their chain of command. Retired soldiers and their family members are not eligible for LASIK through the VA.
There may be a wait to receive treatment, so apply as soon as possible if you want to benefit.
7. If You Have a Serious Eye Condition
Of course, if you have serious vision problems that would be best treated by LASIK or other refractive surgery, then your health insurance will pay for LASIK surgery as it would any other medical procedure. Insurers will typically need a comprehensive diagnosis from an ophthalmologist or qualified physician explaining why glasses or contact lenses would not be a suitable treatment.
Are Retreatments or Complications from LASIK Covered?
Most doctors will provide surgical follow-ups free of charge within the first year of your LASIK operation. Payment for other complications will be handled by your doctor on an individual basis.
You may need to budget for a touch-up 5 to 10 years after surgery. Estimates on the number of retreatments vary widely, but the procedure is not unheard of.
Once your eyes have recovered from LASIK, you can rest easy about vision insurance. "Traumatic injuries post-LASIK certainly should be covered," according to Dr. Moore, even if your health insurer wasn't involved in your LASIK surgery.
Taking the Next Steps
Approximately 20 million people will shop for health insurance during this Open Enrollment Period. If you're shopping for healthcare coverage on your own, check out HealthCare.com to see what Marketplace and off-Marketplace plans are available to you.