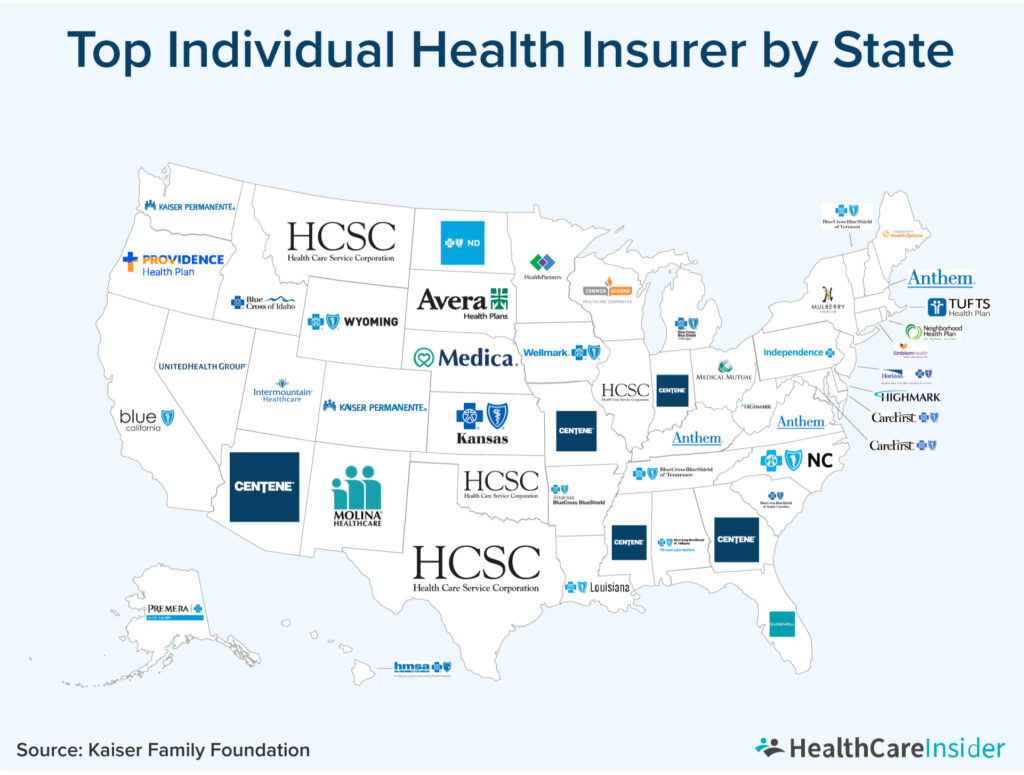 Health insurers took in more than $1.25 trillion to cover policies for Americans in 2020.1
That's up by almost 84% in a decade.
But insurance giants don't dominate markets in all 50 states.
HealthCareInsider mapped the top individual health insurer in each state using data from the Kaiser Family Foundation.2
The data tracks the individual market, which covers Americans mainly through the federal and state Affordable Care Act marketplaces.
Top Insurers in Individual States
Individual private health insurance covered more than over 13 million Americans in 2019, the year under study.3
Centene held the top market share in the largest number of states.
It led in five states across the south, southwest and midwest, including Arizona, Georgia, Indiana, Mississippi and Missouri.
In states where Centene is the top health insurance provider, its market share ranges from a high of 62% in Mississippi to a low of 37% in Missouri.
Coming after Centene for top spot in the most states was Health Care Services Corporation, with the leading market share in four states: Illinois, Montana, Oklahoma and Texas.
Anthem held top market share in three states: Kentucky, New Hampshire and Virginia.
Highmark led in Delaware and West Virginia, while Kaiser Permanente was first in Colorado and Washington.
CareFirst was tops in Maryland and the District of Columbia.
The nation's leading insurer by market share, UnitedHealth, was the top insurer in only one state, Nevada, where it had 61% of the market.
Viewed collectively, firms belonging to the federation of Blue Cross Blue Shield health insurance companies led in 17 states.
| State | Insurer | Enrollment | Market Share |
| --- | --- | --- | --- |
| Alabama | Blue Cross and Blue Shield of Alabama | 180,990 | 97% |
| Alaska | Premera Blue Cross | 18,131 | 100% |
| Arizona | Centene | 78,111 | 40% |
| Arkansas | Arkansas Blue Cross and Blue Shield | 201,675 | 64% |
| California | Blue Shield of California | 727,502 | 36% |
| Colorado | Kaiser Permanente | 78,143 | 37% |
| Connecticut | EmblemHealth | 84,282 | 73% |
| Delaware | Highmark | 23,230 | 100% |
| District of Columbia | CareFirst | 14,789 | 84% |
| Florida | GuideWell | 1,200,187 | 65% |
| Georgia | Centene | 221,477 | 56% |
| Hawaii | Hawaii Medical Service Association | 20,118 | 57% |
| Idaho | Blue Cross of Idaho | 51,770 | 44% |
| Illinois | Health Care Service Corporation | 309,834 | 80% |
| Indiana | Centene | 80,494 | 57% |
| Iowa | Wellmark | 61,327 | 60% |
| Kansas | Blue Cross and Blue Shield of Kansas | 74,884 | 69% |
| Kentucky | Anthem | 70,246 | 69% |
| Louisiana | Blue Cross and Blue Shield of Louisiana | 122,306 | 98% |
| Maine | Community Health Options | 28,658 | 43% |
| Maryland | CareFirst | 157,652 | 68% |
| Massachusetts | Tufts Health Plan | 177,090 | 50% |
| Michigan | Blue Cross Blue Shield of Michigan | 192,574 | 57% |
| Minnesota | HealthPartners | 55,302 | 37% |
| Mississippi | Centene | 73,836 | 62% |
| Missouri | Centene | 84,464 | 37% |
| Montana | Health Care Service Corporation | 19,205 | 39% |
| Nebraska | Medica | 83,924 | 79% |
| Nevada | UnitedHealth | 58,738 | 61% |
| New Hampshire | Anthem | 33,943 | 69% |
| New Jersey | Horizon Blue Cross Blue Shield of New Jersey | 172,017 | 56% |
| New Mexico | Molina Healthcare | 22,083 | 43% |
| New York | Mulberry Health | 39,502 | 23% |
| North Carolina | Blue Cross NC | 504,463 | 97% |
| North Dakota | Blue Cross Blue Shield of North Dakota | 34,909 | 81% |
| Ohio | Medical Mutual of Ohio | 100,018 | 39% |
| Oklahoma | Health Care Service Corporation | 152,058 | 95% |
| Oregon | Providence Health Plan | 66,558 | 38% |
| Pennsylvania | Independence Blue Cross | 166,437 | 40% |
| Rhode Island | Neighborhood Health Plan of Rhode Island | 25,607 | 58% |
| South Carolina | BlueCross BlueShield of South Carolina | 228,857 | 97% |
| South Dakota | Avera Health Plans | 18,987 | 36% |
| Tennessee | BlueCross BlueShield of Tennessee | 100,249 | 44% |
| Texas | Health Care Service Corporation | 420,607 | 39% |
| Utah | Intermountain Healthcare | 190,591 | 96% |
| Vermont | Blue Cross and Blue Shield of Vermont | 18,847 | 57% |
| Virginia | Anthem | 125,982 | 43% |
| Washington | Kaiser Permanente | 106,578 | 46% |
| West Virginia | Highmark | 15,235 | 68% |
| Wisconsin | Common Ground Healthcare Cooperative | 61,449 | 28% |
| Wyoming | Blue Cross Blue Shield of Wyoming | 26,718 | 98% |